An increasing number of wet shavers are now shaving regularly with a traditional double edge safety razor — a shaving routine our fathers and grandfathers would have experienced in decades past.
While a 3 or 5 blade cartridge system will consistently offer an excellent close shave — especially when replenishing the cartridges on a regular basis — using a traditional double edge safety razor can be much more worth while than simply following a fashionable grooming trend.
Whether you want to help prevent shaving irritation, reinvigorate your sense of well being or perhaps you want to invest in a high quality long lasting razor with low overheads, then study these 5 key points then ask yourself 'Should I be using a safety razor?'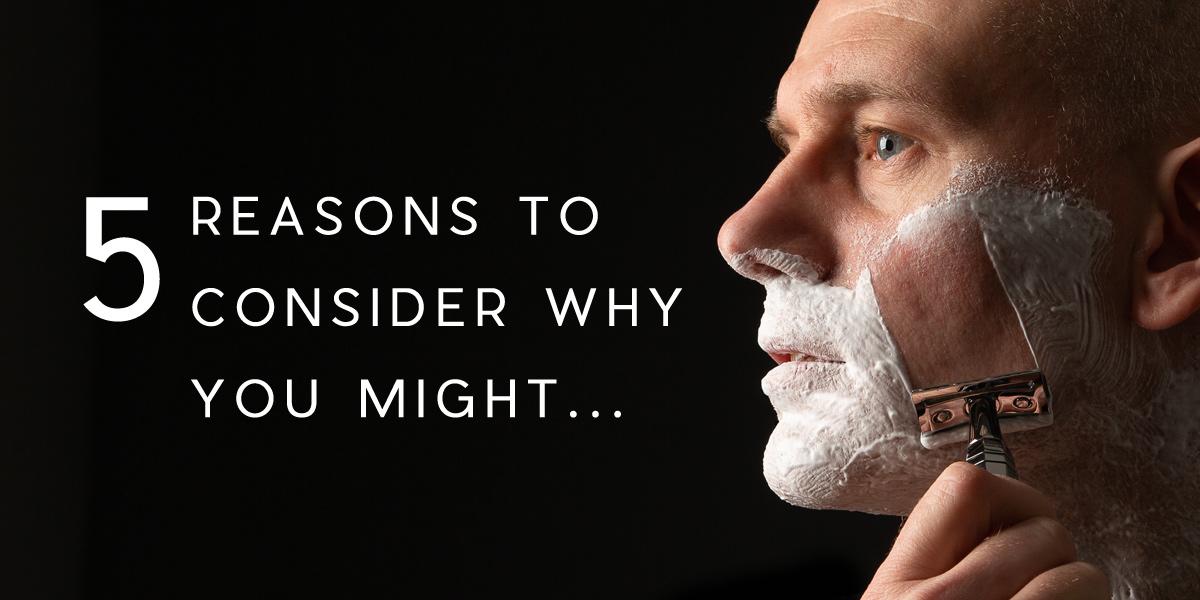 1. Enjoy the full traditional wet shave experience
Using a shaving brush, vigorously work up a creamy lather of scented shaving soap
Apply the soap to existing beard growth and glide the single blade through the soap in the direction of the beard grain (the first pass)
Wash off remaining shaving soap and reapply surplus soap, flip the safety razor over and use the second blade to shave 'across' the grain of the beard (the second pass), you may even conduct a third pass 'against' the beard grain
Enjoy the fruits of the investment time — an extremely smooth, very close and satisfying wet shave, ready for your preferred cologne or soothing aftershave balm


2. Using a safety razor helps prevent razor burn
Shaving with a sharp clean double edge blade is much less likely to clog with beard hair, shave cream and bacteria — the ingredients of mild skin irritation and razor burn. Rinse the safety razor blade regularly during the shave to ensure a clean, smooth outcome.
3. Double edge blades are far less likely to encourage other unsightly skin problems
Shaving with a sharp clean double edge blade will also help prevent ingrowing beard hairs and restrict the bacterial infections that can cause acne.
4. The ongoing use of a safety razor yields a very, very low 'cost-per-shave'
Shaving with a double edge blade is very frugal indeed. A few double edge razor blades cost only a few pence to buy, a fraction of the price of a single 3 or 5 blade cartridge.
5. Benefit the environment
Wet shaving with a safety razor also has a positive impact upon the environment. Double edge blades can be manufactured very efficiently compared to engineering the necessary components used to assemble blades in plastic cartridges. Furthermore, double edge blades are 100% plastic-free!
Note: It is recommended to change your double edge blade after 5-7 shaves.
Double edge safety razor blades are available at leading UK supermarkets and pharmacies. Purchased in packs of 10.
Which Safety Razor should I Buy?
Wilde and Harte offer a choice of three aesthetically stunning safety razor designs, comprising of optimum weighted hand polished stainless steel handles. Each razor is equipped to offer a very close and comfortable shave over many years, yielding a very enjoyable wet shaving experience. Your safety razor can be purchased individually, or part of a Shaving Gift Set with a shaving brush and shaving set stand.