2011
Autumn 2011, over dinner at The Wolseley, in London's Piccadilly, two friends — a product designer and a men's shaving accessory purchaser — discuss the uninspired task of regular wet shaving and identify a lack of genuine quality razors and shaving brushes to make shaving once again, the exciting self-indulgent ritual it should be.
The days of lathering up a badger hair shaving brush with a delicate, scented shaving cream, loading a double edge blade into a 3-piece safety razor and applauding hand crafted shaving implements seem all but forgotten in the efficient-driven age of electric shavers and disposable multi-blade razors.
Surely, the time is right to introduce high-end British made razors and shaving brushes to the men's shaving landscape?
There and then, a brand name was conceived. Derived from two favored drinking establishments in London's bustling West End — The Oscar Wilde bar at the Café Royal, Mayfair and The White Harte in Drury Lane.
Wilde & Harte was born.


2012
Time to embark upon a brand identity for "Wilde & Harte". Understated, quintessential and above all, proudly British.
Ideas for razor handles imminently followed. The requirement was for a modern, contemporary design and a classic, traditional design. With the help of a professional in the international jewelry trade, initial ideas were developed, cast, plated and presented for consideration.

2013
With an octagonal handle design and an innovative helix spiral handle design agreed, then computer-aided-design (CAD) files generated and signed-off, it was time to head to the manufacturing unit to machine the first razor handles.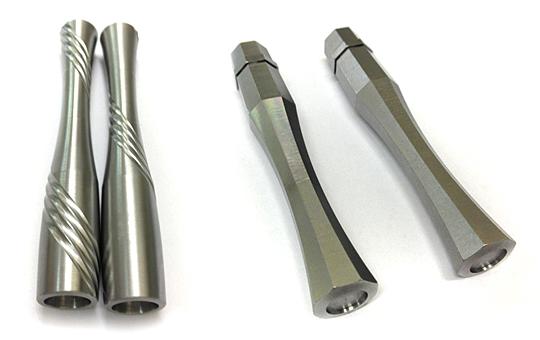 Above: The first manufactured Wilde & Harte stainless steel razor handles
Production moved to the manual polishing of the razor handles to attain the impeccable mirror finish required to market Wilde & Harte razors to the luxury men's grooming market.
Learn more about our design and manufacturing process.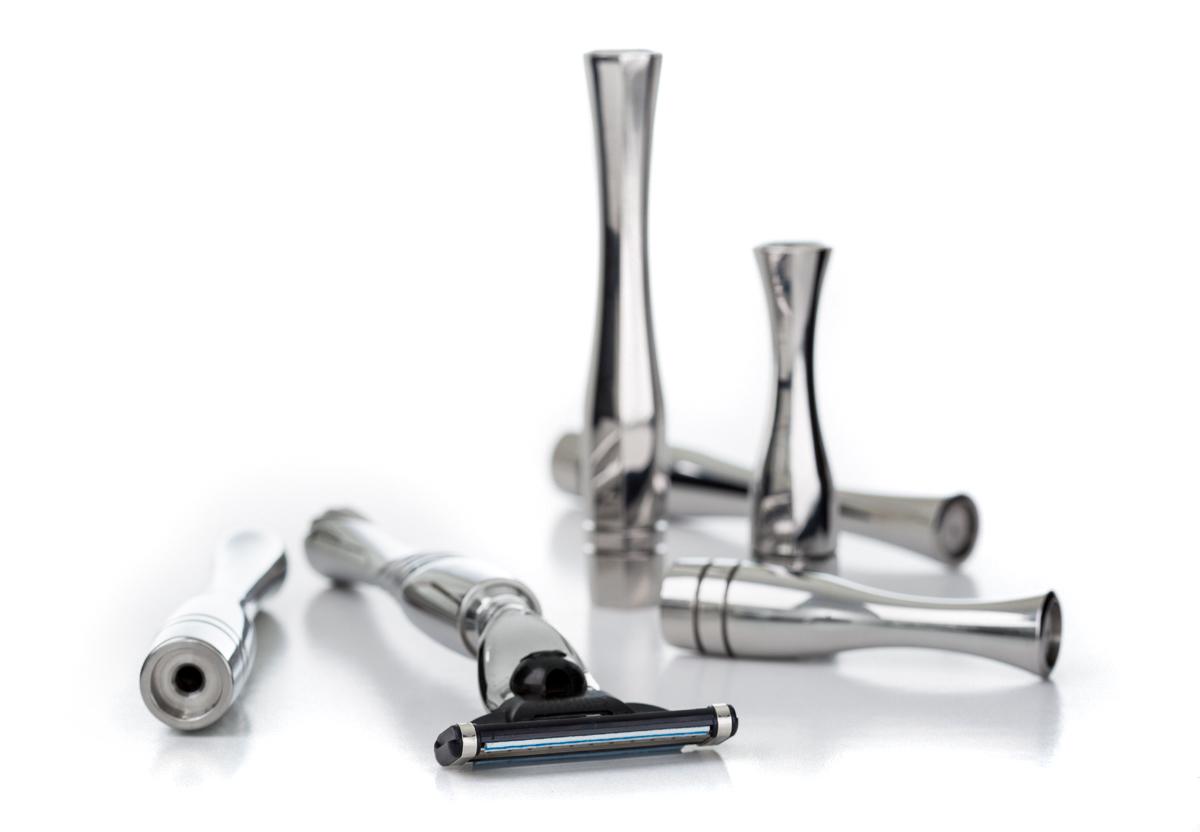 Above: Polished Wilde & Harte razors ready for assembly and testing


2014
Grandeur & Splendour
With the razor collections tested and now ready to market, Wilde & Harte officially launched during the Spring of 2014. Inspired by the grandeur and splendour of iconic houses and palaces in London, three razor Collections nestled seamlessly into the luxury men's grooming market — The Apsley, The Eltham and The Osterley.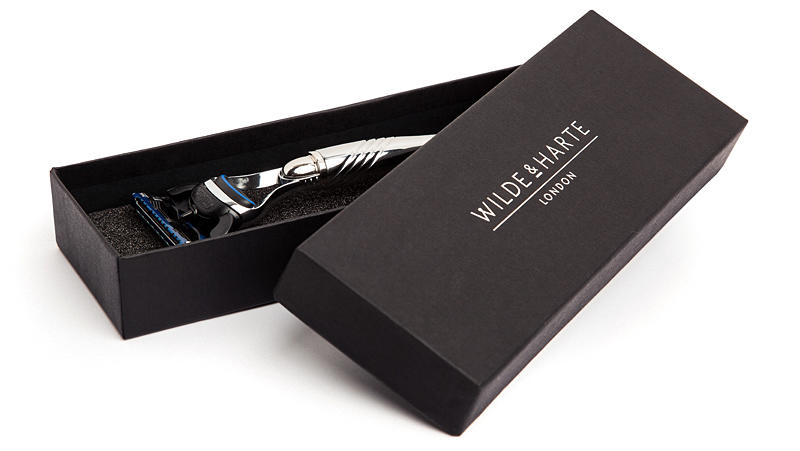 Above: The Apsley Fusion razor (March 2014)
By the end of Summer 2014, Wilde & Harte razors were being shipped throughout the UK and internationally via our ecommerce website. However, more impressively, the razors were also available to purchase in person at the leading men's grooming shops in London — D.R. Harris & Co. (Est. 1790) and Truefitt & Hill (Est. 1805).
2015
"You could imagine Poirot's chum Arthur Hastings packing an Osterley in his sponge bag" — The Tweed Pig
With good sales and many positive comments and reviews about Wilde & Harte razors, it was time to expand the Collections to include matching shaving brushes.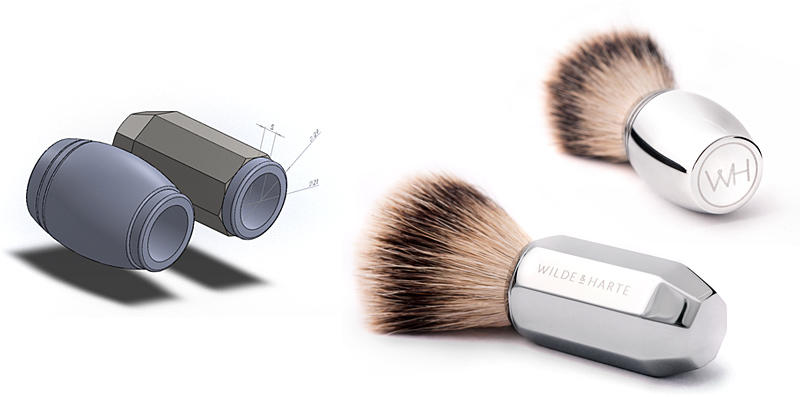 Followed by a selection of sateen bedded grooming gift sets, available at our retail stockists and online in time for Christmas.
2016
A very productive year for the brand. Now selling regularly to USA, Canada, France, Italy, Denmark, Belgium, Holland and of course, the United Kingdom.
As demand for luxury shaving accessories increased, the Wilde & Harte team designed a range of complementing shaving accessories. These included stainless steel shaving brush stands and hand stitched leather safety razor pouches.
2017
Best of British
Wilde & Harte were delighted to feature in 'Best of British', a Summer editorial supplement for the Mail on Sunday, allowing a new audience to learn more about our made in Britain razors and shaving brushes.
The continued success of the Eltham Safety Razor reached new heights and is regarded as the Wilde & Harte signature product.
Bloomberg: The Eltham Safety Razor is an Art Deco Masterpiece
The Eltham Safety Razor featured in Bloomberg Pursuits magazine and online at Bloomberg.com
2018
The Apsley Mach3 razor features in British GQ, attracting welcome attention to this unique, asymmetrical handle design. The Wilde & Harte team also start sketching ideas for a new product in 2019 - a stainless steel shaving set stand.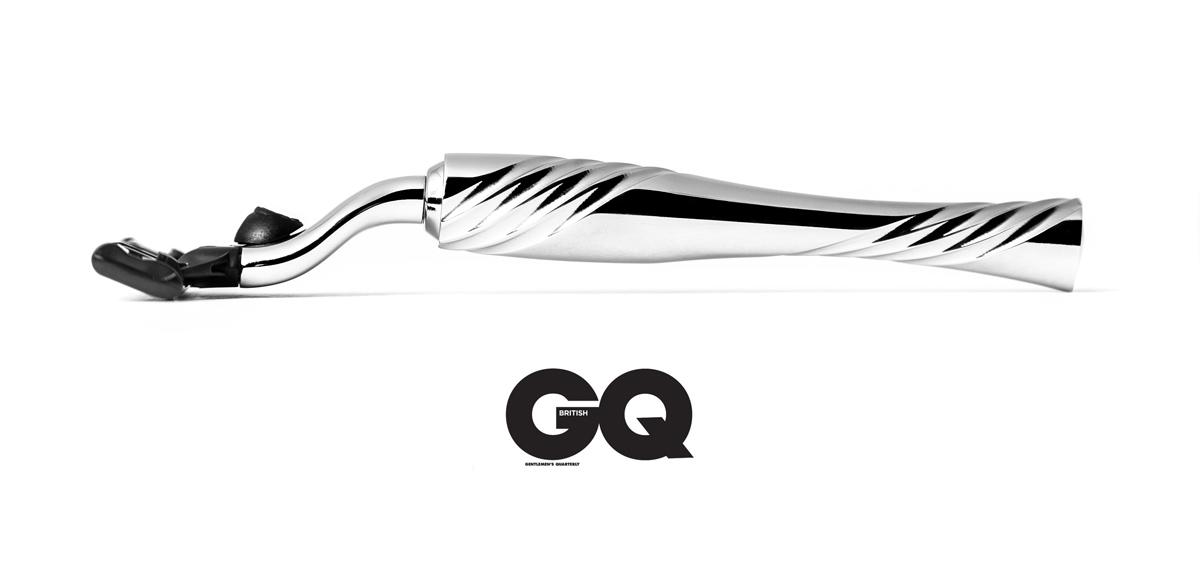 2019
The manufacturing of our brand new shaving set stand begins. These new items immediately impress after being sent out for feedback from a selection of regular customers in Norway, USA, Canada and France.
Above: Photography to demonstrate the high quality mirror finish of the shaving set stands
Autumn 2019, Wilde & Harte launch brand new Contemporary and Traditional Shaving Gift Sets. Each stunning 3-piece shaving gift set consists of an Eltham or Osterley safety razor, choice of badger or synthetic fibre shaving brush and a shaving set stand. Presented in a handmade luxury gift box.
2020?
What a year that was
Who would have predicted the world would be plunged into such economic and social turmoil? With global lockdowns restricting productivity and growth for much of the spring and summer, slowly but steadily, the world got to grips with a new way of life.
Wilde & Harte Director Paul Thompson accepted an invitation to write an article for Made in Britain, explaining the reasons why many businesses will still prosper through the global pandemic.
Made in Britain, October 2020 — Read the full article
2021 & beyond
Our continued aim is to enrich the shaving ritual, as it has been for many successful years. We promise to maintain our extremely high standards of design, manufacturing and faultless customer service.
Why not join the elite club of discerning Gentleman who enjoy a Wilde & Harte shave?
Whether you fall on the side of the traditional or the contemporary, Wilde & Harte design and manufacture shaving Collections to encourage you to experience the best possible wet shave. Browse from our exquisite shaving Collections, below.