07

Feb

Valentines Gifts for Husband
---
Presenting a unique and thoughtful present on Valentines Day is the perfect way to show affection to the man you share your life with. However, choosing Valentines gifts for your husband can be arduous and time consuming, especially as this is the one gift each year you need to get right!
Choosing a gift for Valentines day is one of the very few occasions each year that you have the opportunity to buy a quality gift that will last a lifetime. This gift should impress in years to come, just as much as it did on the first day.
Researching why a Wilde & Harte shaving gift or shaving set is a great choice of Valentines gift is an insightful place to start. Here are the key reasons why:
Equip your husband with a very high quality and desirable gift that will last many years
A personal gift which improves his look and sense of well being
Encourage the start of a lifelong hobby — wet shaving is a skill and a very enjoyable, rewarding routine
Explore the niche of luxury shaving — discover using traditional safety razors, badger hair shaving brushes and beautifully scented shaving creams
Valentines Day gifts for men
Wilde & Harte shaving gift sets are available as a traditional shaving set gift, or a contemporary shaving set gift.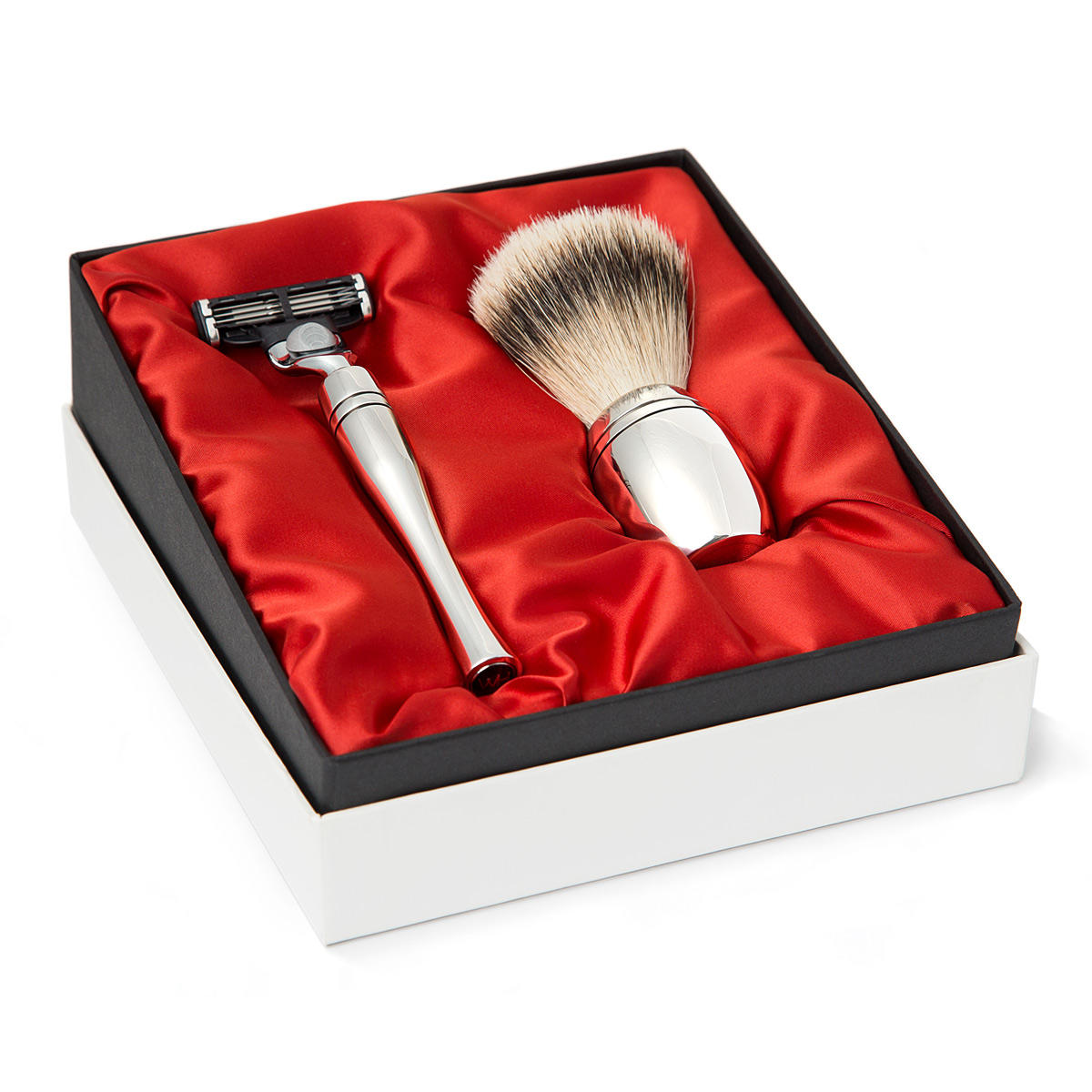 Above: Contemporary Grooming Gift Set in Valentine Red

MADE IN BRITAIN
The British Government endorsed Made in Britain campaign marque, is accredited to businesses who sell goods that have been manufactured in Great Britain. Successful applicants — such as Wilde & Harte — have submitted written evidence supporting that products have been genuinely designed and manufactured in the UK.

Reasons to purchase from Wilde & Harte
Beautifully handcrafted items
Each razor and shaving brush is polished to an impeccable mirror finish by skilled stainless steel finishers.
Choice of shaving brush fibres
Choose from real badger hair shaving brushes or vegan friendly synthetic fibre shaving brushes.
Handmade branded gift box
Each shaving gift set comprises of a sateen bedded handmade gift box.
Matching accessories
You may also purchase matching razor stands, shaving brush stands and leather razor pouches.
FREE UK Shipping!
Furthermore, we also ship worldwide at very competitive rates.

Need help choosing the correct razor or shaving brush? Then please read our shaving set Gift Guide.
Want to know more about Wilde & Harte?
Learn more about our Grooming Collections, inspired by the grandeur of iconic houses and palaces in London, or read our story.
Related articles
50th Birthday Gift for Him - Searching for the perfect 50th Birthday Gift for him? With such an important milestone date approaching, you need to purchase a gift which conveys thought, style and quality...
Made in England Gifts - England has an impressive history of designing and manufacturing desirable gifts for discerning customers the world over...